Wedding
The Top Cabo Wedding Resorts for Outdoorsy Couples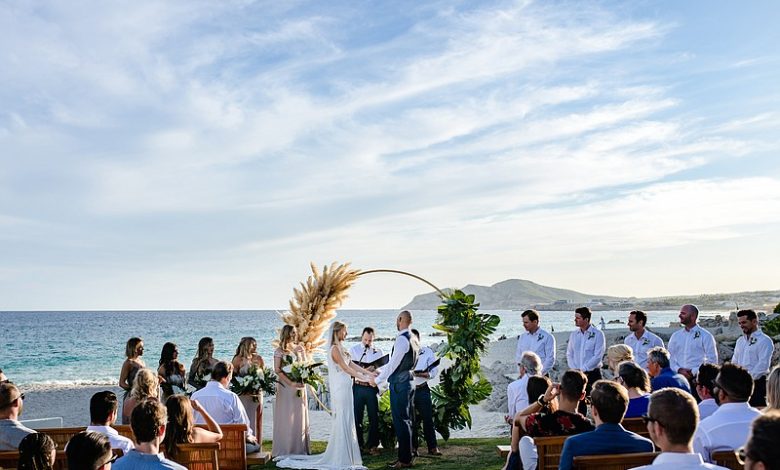 If you're thinking of a destination wedding in Mexico, you've no doubt had Cabo on your radar. Los Cabos is home to some of the most amazing wedding venues and resorts, and there's a little something for everyone.
And if you're a couple with an affinity for the outdoors, you'll have an abundance of places to choose from. From chic farm-style venues to luxurious ocean-view villas, these Cabo San Lucas wedding resorts should be at the top of your places to book.
Esperanza Resort
If you're looking to create memories beneath the swaying palms, Esperanza Resort may be the place your heart desires. This beautiful private beach resort provides plenty of venue spaces with an ocean view, unique dining options, and an abundance of activities for anyone looking for an outdoor adventure.
During your wedding weekend, stay in a suite and enjoy a private balcony and infinity pool; exchange vows on a terrace perched on a cliff with the Sea of Cortez as your backdrop; dine cliffside and savor ocean-to-table dishes like grilled grouper, and go on a sunset sail or ride a camel in the Cabo outback.
Waldorf Astoria Los Cabos Pedregal
From your wedding day to your honeymoon stay, the Waldorf Astoria (formerly the Resort at Pedregal) provides couples with idyllic options to help them create the experience of a lifetime.
Once you enter through Mexico's only privately-owned tunnel, you'll be transported to this secluded resort where you can choose from ocean-view guest rooms, one-bedroom suites, or splurge on a multi-bedroom villa with personal butler service.
Outside of your room, you'll enjoy discovering the tranquil spaces of the Sierra de la Laguna mountains (think waterfalls, swimming holes, and hot springs), swimming with whale sharks, and sailing to nearby islands while snacking on fresh ceviche.
And of course, you'll enjoy getting married! The resort offers two terraced ceremony and reception areas, as well as a private beach. After you've said your vows, head to the open-air venue for your reception dinner, then spend the rest of your evening engaging in fireside chats with friends.
Chileno Bay
Chileno Bay is an upscale coastal desert resort where you can exchange vows near the waves, then plunge into them during your honeymoon stay.
For the ultimate experience, book the Brisa del Mar ocean-front villa for you and your wedding party. This 11,000-square-feet villa is perfect for groups up to 12 and features a private pool, beach access, seaside fire pit, an indoor and outdoor kitchen, a rooftop terrace, an outdoor covered pool table, and much more.
After you say your I dos at one of the six ceremony spaces, head into your wedding weekend with fun activities. Take a dip in one of Cabo's only swimmable beaches, sail, snorkel, kayak, play lawn games, hike, or take a Jeep tour through the Baja outback.
Afterward, wind down with a relaxing spa treatment, including tribal treatments, which incorporate Mayan ritual and healing modalities that leave you feeling completely refreshed.
Acre Baja
Acre Baja may be one of the most unique wedding venues in Cabo. You'll find this 25-acre resort within the foothills of San Jose del Cabo.
A true sanctuary, Acre Baja offers elegant treehouse accommodations, gorgeous gardens, an organic farm, an award-winning bar and restaurant, and an outdoor event space that's beyond magical. After all, what could be more romantic than having your first dance in a mango orchard under a star-filled sky?
As an outdoor couple, you'll love sleeping in one of the boutique treehouses. Each room has an outdoor shower and indoor bathroom, a king-size bed, patio space, a curated minibar, and high-speed internet. Plus, your room reservation includes a two-course farm-to-table breakfast and a morning yoga class in the mango orchard. You'll also have access to a pool and the rest of the grounds where you'll likely come across peacocks, chickens, goats, and an adorable donkey.
Acre Baja also provides guests with exciting opportunities, like whale watching, surf and scuba diving lessons, rounds of golf, beach access, and luxurious massages in poolside treatment rooms.
Now that you know about some of the top Cabo wedding resorts to suit your outdoor style, it's time to get planning! Think about how your wedding theme, vibe, and overall look will fit in with these resorts to help you choose the best one for you.
Also, consider whether you'll have guests staying at the resort and if you plan on making your wedding a multi-day celebration.
Fortunately, all of these Cabo resorts provide everything you need to make long-lasting, cherished memories.