Wedding
The best places for a marriage proposal in Amsterdam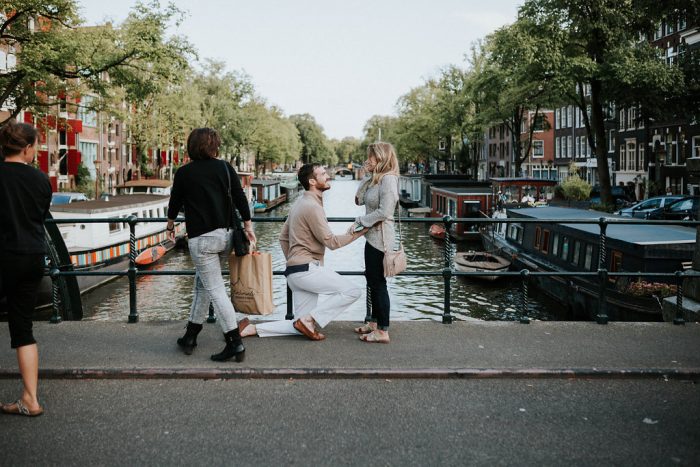 Charming canals, beautiful flower-decked bridges and historic houses that combine to create a picturesque setting and provide an Instagram-worthy backdrop that you won't find anywhere else. Amsterdam is an undiscovered city for couples, and I believe Amsterdam is one of the most romantic cities in Europe. And therefore, the ideal location to propose to your loved one.
Circumstances have changed rapidly since the coronavirus has been among us. Our habits, rhythms, and patience had to be adjusted in no time since the lockdown. And with all the consequences that entails. Now that the Netherlands is in lockdown for the second time, it is important to support each other and keep each other safe. We, at Romantic tour Amsterdam, think this is important and take all measures into account to carry out our tours as corona-proof as possible. After all, safety comes first.
We understand that finding a unique and romantic place to safely propose to your partner during this pandemic can be a challenge. That is why in this article you will find the best places for a romantic marriage proposal in Amsterdam, which are also corona-proof. Because there are few people on the street, this is the ideal time to make your marriage proposal. So that you and your loved one can share a romantic, but also safe experience together in beautiful Amsterdam. Read on and start your romantic journey through Amsterdam.
Romantic places for a marriage proposal? You can choose from more than 1200 bridges…
Amsterdam is often known as "Venice of the North". The canals and bridges are some of my most romantic places in this city. Here are some beautiful places that I highly recommend if you're planning to propose in Amsterdam.
Intimate Amsterdam marriage proposal spot
The Begijnhof, a secluded romantic courtyard in a fairytale setting, will guarantee you that unique and intimate marriage proposal in Amsterdam. This beautiful place was built for Catholic women in the 14th century and is still inhabited by unmarried women to this day. You can also find Amsterdam's second oldest house here, Het Houten Huis, built by a carpenter in 1528. If you come at 9am, when the garden is open to visitors, you'll have this rich courtyard garden all to yourself. If you're looking for an intimate, dreamy and magical marriage proposal place, look no further.
Marriage proposal on the canals
What could be more romantic than an intimate private tour, where you can snuggle up to your loved one while you soak up the city's beautiful canals. I will take you on a canal cruise in Amsterdam where you can make your marriage proposal in one of the most romantic environments. I'll take care of everything, romantic stories, flowers, strawberries and a bottle of champagne – so that everything is arranged down to the last detail and all you have to do is ask the question and sit back and enjoy the moment your loved one says 'yes " said.
The best places to propose to your loved one
There are 2 excellent places for a marriage proposal on this tour. One of them is at the end of De Zeven Bruggen. It is a unique and intimate canal where you can make your marriage proposal in complete privacy. If you sail under De Zeven Bruggen while holding the hands of your partner, you will stay together for at least 7 years. How romantic is that! Don't miss the magnificent view of the Rijksmuseum, the most beautiful museum in the Netherlands at the end of the canal.
The second-place worthy of a marriage proposal is the beautiful Skinny Bridge. This bridge crosses the well-known Amstel River. Go at sunset when the sky turns all shades of red and orange before your eyes. Or at night when the bridge is lit up and the sparkling lights are reflected in the water. Don't forget to kiss your lover when you go under the bridge, to make your love last forever.