Wedding
How to Plan you're your Bridal Appointment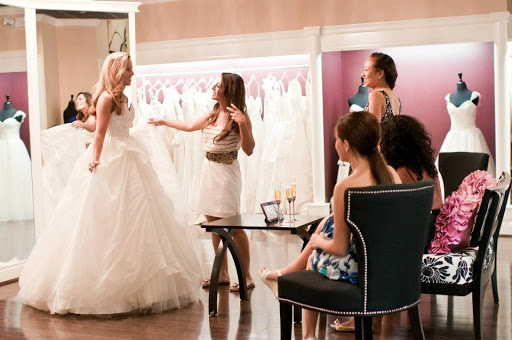 Wedding dress shopping is such an exciting time for you as a bride to be. You want to get together with your maid of honour, your bridesmaids, close friends and family and choose the bridal gown of your dreams. Making a bridal appointment is just the first step into realising your dreams and setting up the best day of your life. Once you've made that appointment, what can you expect from the first appointment and how do you prepare so that you are not coming in completely cold and lost as to what is expected of you? The first thing to say is, just relax, you'll have a wonderful time, and the best bridal boutiques know how to help you have fun whilst making the right choices for your style, the wedding theme and your budget.
Speak to your bridal boutique about what they expect from you in terms of what to wear and how many people you can have with you during your appointment, as every space is different, and you always want to be respectful to those helping you find your dream wedding dress.
After that, consider what to do around the dress viewings. It might be nice to go for lunch with your party, spend some time chatting about all things wedding. Get some champers to take with you and ensure you are all pumped up and excited for what is ahead with the dress fitting. Plan to laugh a lot with your loved ones!
Once you have found out how many people you are allowed to take with you to the dress fitting, decide who you actually want to take with you. For some people it is just a case of their maid of honour and no one else, other women want to bring as many people as possible to get a range of feedback on each dress that is tried on. There is no right or wrong answer to this, just be truthful to yourself and bring those who you can trust to be honest with you and will have the most fun.
In most cases, finding the perfect wedding dress and going through various fittings can take between 6-9 months so make sure you plan well in advance of the big day. If you have part of the bridal party travelling from elsewhere for the wedding, have this in mind when looking at wedding dress and bridesmaid fittings, so everything runs as smoothly as possible. The more you plan ahead, the better the timing for the entire process will be.
Finding that perfect wedding dress for your big day should never be stressful. We hope that you've found some useful tips here on this page, to reduce any worries you have and to get you excited for your first bridal appointment. The best thing you can do is find a bridal boutique that you can trust to get you in the right frame of mind for your wedding day, They will not only help you have an amazing time with your friends and family when searching for that bridal gown that will have you glowing come your big day, but they'll take everything into consideration so that you make a fully informed choice that suits your taste, your body, the style and theme of the wedding and your wedding dress budget.